History
Origins of the Club
The Burnaby Lake Rugby Club was formed in 1994 when two Metro Vancouver rugby clubs, the Burnaby Buffaloes and the Vancouver Trojans, merged.
Because the Buffaloes played in the Fraser Valley Rugby Union and the Trojans played in the Vancouver Rugby Union, these two clubs did not have long standing rivalries, which accounted a great deal for the success of the merger. As a result of the merger the newly formed Burnaby Lake Rugby Club (BLRC) became one of the larger clubs in the Metro Vancouver Area, consistently fielding teams at the most competitive levels in British Columbia.
The BLRC also has a long standing association with Justice Rugby Club. The Justice Rugby Club is a social rugby club, that plays non-league invitational matches in Canada and abroad. The membership of Justice Rugby consists of police officers in the Metro Vancouver area and their friends. Many of these members are also members of the BLRC.
The Burnaby Lake Rugby Club first played in the Fraser Valley Rugby Union (FVRU) after the merger in 1994. However, the BLRC membership voted to join the Vancouver Rugby Union (VRU) during the 1995/1996 Annual General Meeting and the BLRC was accepted as a member of the VRU in 1996, where it has stayed a member since.
Symbols of the Burnaby Lake Rugby Club Crest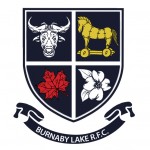 The Water Buffalo and the Trojan Horse were symbols of the two clubs that merged in 1994 to form the BLRC. The Maple Leaf is the symbol on Canada's flag and the Dogwood is the official flower of British Columbia.
2014 BLRC 20th Anniversary
2014 will mark the 20th year of the club's existence. To celebrate this momentous milestone in the club's history we are planning a giant celebration. In the years leading up to the anniversary we will be holding mini fundraising events in order to fund the main event. Also we would like to put together pictures, stories, and other mementos of the clubs rich history. If you would like to contribute please e-mail our 2014 Anniversary Chairperson Johnny Decaire at archives@burnabylakerugby.com.