About Mini Rugby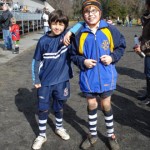 Mini-rugby is a fully-coached, controlled introduction to rugby, with a primary emphasis on having fun and maximum participation. At the mini-rugby level, the focus is on introducing players to the game and creating an inclusive and enjoyable rugby experience. Graduated levels of size, contact and game speed ensure a safe mini-rugby experience for children aged five through twelve. "Minis" learn the fundamental skills of rugby while making new friends at their "club" and while competing in "mini rugby jamborees".
What are Mini-Rugby Jamborees?
At mini rugby jamborees, several clubs each bring a number of teams, and games are organized so that only teams with players of similar size and skill levels play each other. Mini rugby jamborees happen throughout the year.



In addition to bringing a lot of enthusiasm and energy to jamborees, all mini-rugby participants should bring:
A drink or snack.
Appropriate clothing for the weather, including warm-up gear for staying comfortable between games.
Appropriate footwear, for example, runners with good tread or, preferably, molded soccer cleats is definitely required.
MOUTHGUARDS ARE MANDATORY
Who should I contact for more information?
For the latest information, check Mini Rugby News . Please feel free to email our mini rugby coordinator.
Check out the Rugby Calendar